A Machine Learning Approach to Unentangle Wetting
Apply
Project Description
Liquid-repellent surfaces are utilized in a wide spectrum of practical applications, including anti-fogging coatings, reducing frictional drag, water desalination, separating alcohols and other volatile organics from fermenter broths, and beyond. The most common criteria for quantifying their liquid-repellence are based on measuring apparent contact angles – advancing and receding– of sessile droplets of probe liquids placed onto them. Of these, the receding contact angles provide crucial information about the chemical or topographical make-up of the surface. However, despite over two centuries of research on contact angles, there are no well-established theories for predicting receding contact angles, for instance, as a function of the surface micro/nano (hierarchical) texture and chemical make-up and the speed of the liquid front. Here, we propose to assess the efficacy of a Machine Learning approach towards predicting receding contact angles from surface roughness features. We aim to design and evaluate a neural network architecture for automatic inference of dynamic wetting properties including advancing and receding contact angles at various speeds, surface topography and chemical make-up, and drop size and volume. Subsequent analysis of model parameters can point to key surface features that contribute to changes in the output variable, which can help advance our fundamental understanding of wetting of complex surfaces, implicit in water science and technology.
Program -
Chemical Engineering
Division -
Biological and Environmental Sciences and Engineering
Faculty Lab Link -
https://interfaciallab.kaust.edu.sa
Center Affiliation -
Water Desalination and Reuse Center
Field of Study -
machine learning, microstructures, wetting
About the
Researcher
Himanshu Mishra
Associate Professor, Environmental Science and Engineering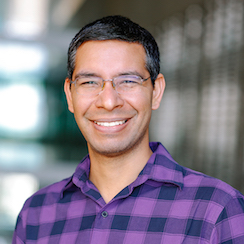 Biomimetics

Chemistries and electrification at water-hydrophobe interfaces
Surface forces (hydrophobic interactions, DLVO, structural forces)

Superhydrophobic sand mulches and soil amendments for arid land agriculture
Desired Project Deliverables
The intern student will be tasked with: 1. Collecting a dataset of images of hierarchically textured natural surfaces and micro/nano fabricated surfaces, labeled with static and dynamic wetting properties and chemical composition. 2. Helping design and implement a neural network architecture, optimized for the prediction of apparent contact angles on hierarchical surfaces (e.g., mico, nano, or mili meter scale). Project-duration will be 3-6 month, and the student arrival/departure dates will be discussed.
RECOMMENDED STUDENT ACADEMIC & RESEARCH BACKGROUND
Engineering
Computer science
Strong analytical skills
Programming skills preferred