Concentrated Solar Thermal Energy for Mineral Processing
Apply
Project Description
This research project will assess the efficacy of using concentrated solar thermal energy in processing mineral ores. Students will have the choice to work on: 1. Low carbon calcination of Limestone and Clay for Cement production 2. Use of solar energy for Ore shock pretreatment to reduce comminution energy 3. Renewable steam for ores calcination through H2/O2 combustion Most projects will involve both experimental and computational research.
Program -
Mechanical Engineering
Division -
Physical Sciences and Engineering
Faculty Lab Link -
https://ccrc.kaust.edu.sa/people/detail/bassam-dally-ph.d
Center Affiliation -
Clean Combustion Research Center
Field of Study -
Renewable Energy
About the
Researcher
Bassam Dally
Professor, Mechanical Engineering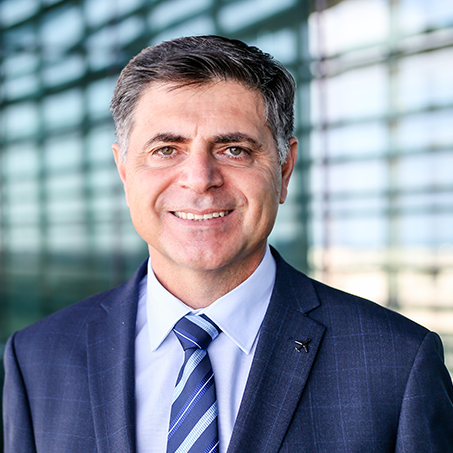 ​Prof Dally's research interests include combustion science, aerodynamics, heat transfer, applied optics, computational fluid dynamics, and renewable energy including wind, solar and tidal wave. His interest spans fundamental to translational research, including turbulence chemistry interaction, soot evolution in flames, structure and stability of MILD combustion, hydrogen and ammonia energy victors, energy storage, hybrid energy systems and fuel adaptation to industrial processes. His current research is focused on developing cost-effective and innovative technologies that deliver carbon mitigation under the circular carbon economy approach. In particular, he is working on technology solutions to decarbonize heavy industries through flexible integration of renewable sources such electrification, hydrogen and ammonia combustion and concentrated solar thermal.

Desired Project Deliverables
1. Parametric study to quantify effect of solar concentration, temperature, type of ore, size of particles etc.. 2. System level analysis to assess the different aspects that make it techno-economically viable 3. Design, build and test hybrid combustion of renewable fuels and solar thermal for mineral processing
RECOMMENDED STUDENT ACADEMIC & RESEARCH BACKGROUND
Mechanical, Chemical or similar engineering specialization
Interest and high academic achievements in thermodynamics, fluid mechanics and combustion topics
Desirable expertise in solar thermal energy
Computational experience is desirable