Design and Control of Power Conversion Systems
Apply
Project Description
Power conversion systems are a critical component in applications such as electric vehicles, oil & gas, solar/wind energy harvesting systems and active distribution networks. This project introduces the student to contemporary topics in the fields of electronic power conversion system design and control. Unique power converter architectures and controls will be utilized to meet specialized application requirements. The student willbeexposed to the simulation, design, prototyping and testing of a representative power conversion system.​​​
Program -
Electrical Engineering
Division -
Computer, Electrical and Mathematical Sciences and Engineering
Center Affiliation -
Ali I. Al-Naimi Petroleum Engineering Research Center
Field of Study -
​Electrical Engineering
About the
Researcher
Shehab Ahmed
Professor, Electrical and Computer Engineering<br/>Chair, Electrical and Computer Engineering Program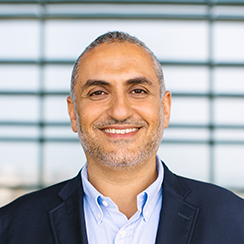 Professor Ahmed's research interests span the broad areas of power conversion and mechatronic systems. His research aims to intelligently merge electronics/mechanics/computing/control disciplines to develop novel devices and software that serve future smart grids and intelligent oil fields. His specific research interests in the field of smart grids includes: distributed/renewable power generation, utility power conversion, microgrid energy management/storage, hybrid and electric vehicle drivetrains, and HVDC systems. His work on oilfield subsurface mechatronic systems aims to enhance drilling operations, improve wellbore integrity assessment, and support successful wireline conveyance.


Desired Project Deliverables
​- System simulation and evaluation of simulation results- A laboratory prototype - A detailed report covering various activities carried out (should be in the format of a research paper)​​