Devices processing an characterization: Charge separation in organic solar cells
Apply
Project Description
The Ultrafast Dynamics (UFD) Research Group at the KAUST Solar Center (KSC), part of the King Abdullah University of Science and Technology (KAUST), welcomes applications for internships of up to 6 months (further extension possible). Our present research focuses on the electro-optical characterization of photovoltaic devices based on organic and hybrid (perovskite) semiconductors, and the investigation of exciton and charge carrier dynamics in photoactive thin films by advanced time-resolved and steady state spectroscopic and electrical methods. The UFD Group is looking for an intern with interest in experimental studies to investigate a critical aspect of photocurrent generation in organic solar cells: the dissociation of Coulombically bound charges. The student will be part of a project aiming at connecting first the solar cells performances to the electro-optical properties of the material, and then those properties to the molecular design of the molecules used as organic semiconductors, and more specifically the influence of their quadrupole moment. The proposed work is composed of several stages: i/ Processing, electrical characterization and optimization of organic solar cells based on a series of organic semiconductors possessing different quadrupole moments. ii/ Simulation of those solar cells in order to gain a proper understanding on how general properties affect the cells performances. iii/ If time allows, in-depth investigation of the influence of quadrupole moments on charge separation using the time-delayed collection field (TDCF) method.
Program -
Applied Physics
Division -
Physical Sciences and Engineering
Faculty Lab Link -
https://ufd.kaust.edu.sa/
Center Affiliation -
KAUST Solar Center
Field of Study -
Material science, semiconductor physics, electrical engineering or computer science, light matter interactions, analytic chemistry.
About the
Researcher
Frédéric Laquai
Professor, Applied Physics<br/>Interim Director, KAUST Solar Center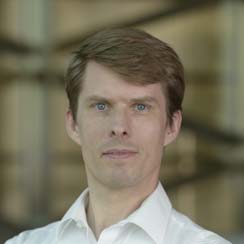 ​His current research focuses on the photophysics of excitonic solar cells, specifically processes such as exciton dissociation, charge carrier generation, transport and recombination in polymer and small molecule organic and hybrid solar cells. He studies these processes by various steady-state and transient all-optical and electro-optical techniques, for instance, transient absorption pump-probe spectroscopy and time-resolved photoluminescence spectroscopy.


Desired Project Deliverables
i- Processing and electrical characterization of state-of-the art organic solar cells (1 month). ii- Understanding and simulation of the influence of physical parameters on solar cells performances (2 month). iii- Optimized recipes for the studied systems (5 months). iv- Studies of charge separation of those novel OPV materials using the TDCF setup and data to contribute to scientific publications (6 months).