Excited states characterization: spectroscopy of excited states at organc semiconductor thin films interfaces.
Apply
Project Description
The Ultrafast Dynamics (UFD) Research Group of the KAUST Solar Center (KSC), part of the King Abdullah University of Science and Technology (KAUST), welcomes applications for an internship of up to 6 months (further extension possible). Our present research focuses on spectroscopic characterization of photovoltaic that use organic and hybrid (perovskite) semiconductors, specifically studies of exciton and charge carrier dynamics by time-resolved and steady-state spectroscopic techniques. The Ultrafast Dynamics (UFD) Group is looking for an excellent intern interest in both, setup development and experimental studies. Labview programing experience is a plus. The student will work on photoinduced absorption (PIA) and time-resolved photoluminescence (t-PL) spectroscopy to investigate photophysical processes occurring at the interface between the active layer the transport layer of an organic solar cell. The student will learn how to operate the PIA and t-PL setup to detect the excited species generated upon photoexcitation on the active layer of organic solar cells. He will then work on implementing measurements on bilayers films composed of the active layer and a transport layer of a solar cell. The aim is to monitor the transfer of charges from the active layer to the transport layer and how it affects the photophysics of the active layer.
Program -
Materials Science & Engineering
Division -
Physical Sciences and Engineering
Faculty Lab Link -
https://ufd.kaust.edu.sa/
Center Affiliation -
KAUST Solar Center
Field of Study -
Material science, laser physics/photonics, analytical chemistry. experimental/applied physics.
About the
Researcher
Frédéric Laquai
Professor, Applied Physics<br/>Interim Director, KAUST Solar Center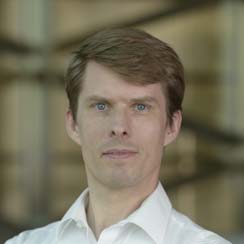 ​His current research focuses on the photophysics of excitonic solar cells, specifically processes such as exciton dissociation, charge carrier generation, transport and recombination in polymer and small molecule organic and hybrid solar cells. He studies these processes by various steady-state and transient all-optical and electro-optical techniques, for instance, transient absorption pump-probe spectroscopy and time-resolved photoluminescence spectroscopy.


Desired Project Deliverables
i- Get familiar with the PIA and t-PL measurement techniques (2 month). ii- Optimization of the signal-to-noise ratio of the PIA setup (3 month). iii- PIA-t-PL measurements on a bilayer of an organic semiconductors and charge transport layer (6 month).
RECOMMENDED STUDENT ACADEMIC & RESEARCH BACKGROUND
Ability to solve experimental problems..
Experience with spectroscopy setups.
Programming skills (preferably LabView) (if possible).
Experience with data acquisition, processing, and analysis (if possible).