Imaging with a Drone-borne Synthetic Aperture Radar
Apply
Project Description
Due to their mobility, cost-effectiveness and availability, small-scale drones (or unmanned aerial vehicles (UAVs)) are increasingly being used as a platform of choice for sensing or imaging critical target areas/objects in numerous applications. In contrast to optical sensors, radars provide all-weather sensing capabilities. However, radars are limited in the resolution of the images that they generate. One way to circumvent this limitation is to use a synthetic aperture radar (SAR), which can be realized by collecting radar measurements over a pre-defined path. This can be easily achieved via a maneuverable platform such as the drones. Thus, drone-borne radars can provide a robust and flexible solution to the sensing problems. In this project, we model and test drone-borne SAR in order to enhance the resolution of radar images. The project involves simulations as well as (possible) practical experiments.
Program -
Electrical Engineering
Division -
Computer, Electrical and Mathematical Sciences and Engineering
Faculty Lab Link -
https://cemse.kaust.edu.sa/ece/people/person/tareq-al-naffouri
Field of Study -
Electrical Engineering
About the
Researcher
Tareq Al-Naffouri
Professor, Electrical and Computer Engineering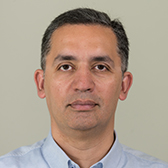 ​Professor Al-Naffouri's research interests lie in the areas of adaptive, sparse and statistical signal processing and their applications. These applications include communications, ultrawideband and ultrasound-based localization and tracking. His research also extends to the design and analysis of wireless networks.

Desired Project Deliverables
1) Simulating synthetic aperture radar via Matlab coding, 2) Designing the experimental setup and taking practical measurements, 3) Generating processed radar images, 4) Documenting the project and its outcomes
RECOMMENDED STUDENT ACADEMIC & RESEARCH BACKGROUND
Signal Processing
Radar Systems
Matlab Coding