Multipurpose Nanowires Transducers
Apply
Project Description
Magnetism has a long history in science and engineering and has enabled much economic and technical advancement from the compass, more than 2000 years ago, to contemporary spintronic devices. Magnetic nanotransducers are already central to data storage and sensor devices, and more recently they are penetrating various new areas including life sciences and biomedical applications.Magnetic nanowires offer unique properties, due to a high aspect ratio and shape anisotropy. They are characterized by a single magnetic domain, rendering them nano permanent magnets. This feature allows energy-efficient and remote operation of the nanowire transducers, i.e. induce motion, produce heat or sense their location.In our research group (Sensing Magnetism and Microsystems, http://smm.kaust.edu.sa) we are exploiting those properties for cancer treatment, drug delivery, artificial skin, cell probes, cell substrates and energy harvesting.​​​​​
Program -
Electrical Engineering
Division -
Computer, Electrical and Mathematical Sciences and Engineering
Field of Study -
Electrical Engineering, Material Science, (applied) Physics, (applied) Chemistry
About the
Researcher
Jürgen Kosel
Associate Professor (Adjunct), Electrical and Computer Engineering<br/>Head of Sensing Magnetism and Microsystems Group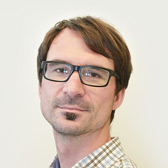 ​Professor Kosel's research interests are in the field of micro- and nano devices with special emphasis on magnetic effects.

Desired Project Deliverables
In this internship, the student will be engaged in the design, fabrication and testing of nanowire transducers. The student will firstbe introduced to the background of nanotransducers and will conduct a literature study on this topic. In parallel, the student will complete the safety trainings required for lab access and tool training. Then, the student will be trained on nanofabrication methods (i.e. patterning and deposition for realizing specific nanotransducer designs. The student will be fully integrated in the ongoing research projects and will interact and collaborate with several students and postdocs in the group. This will engage the student in complex multidisciplinary project questions ranging from magnetic field aspects over peculiar properties of nanoparticles to cell biology. Senior PhD students of the group will be assigned as mentors to closely work with the internship student during the different phases of the project, ensuring a continuous progress and maximum support.