Ultraviolet materials and devices
Apply
Project Description
Ultraviolet light (UV light) plays an increasingly important role in water sterilization, chemical detection and communication. This project aims to develop high efficiency, high power and portable UV light emitting devices using semiconductor materials and nanostructures.​​​
Program -
Electrical Engineering
Division -
Computer, Electrical and Mathematical Sciences and Engineering
Field of Study -
​Engineering, Physics, Mathematics, Science
About the
Researcher
Boon S. Ooi
Professor, Electrical and Computer Engineering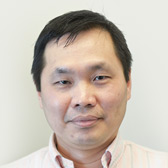 ​Professor Ooi's research is primarily concerned with the study of semiconductor lasers and photonic integrated circuits. Specifically, he has contributed significantly to the development of practical technologies for semiconductor photonics integrated circuits, and the development of novel broadband semiconductor lasers, multiple-wavelength lasers and superluminescent diodes. Most recently, he focuses his research on the areas of GaN-based nanostructures and lasers for applications such as solid-state lighting and visible light communications.

Desired Project Deliverables
​Obtain luminescence in UVB and UVC spectrum range with semiconductor materials and structures. Develop electrical injected UVB and UVC LEDs and lasers.