Identifying novel Cas variants for pathogen diagnostics
Apply
Project Description
Rapid, point-of-care (POC) diagnostics are essential to mitigate the impacts of current (and future) epidemics; however, current methods for detecting severe acute respiratory syndrome coronavirus 2 (SARS-CoV-2) require complicated laboratory tests that are generally conducted off-site and require substantial time. CRISPR-Cas systems have been harnessed to develop sensitive and specific platforms for nucleic acid detection. These detection platforms take advantage of CRISPR enzymes' RNA-guided specificity for RNA and DNA targets and collateral trans activities on single-stranded RNA and DNA reporters. Microbial genomes possess an extensive range of CRISPR enzymes with different specificities and levels of collateral activity; identifying new enzymes may improve CRISPR-based diagnostics. We work to identify new Cas variants, and characterize its catalytic activity.
Program -
BioEngineering
Division -
Biological and Environmental Sciences and Engineering
Faculty Lab Link -
https://gelab.kaust.edu.sa/
Field of Study -
Bioengineering
About the
Researcher
Magdy M. Mahfouz
Professor, Bioengineering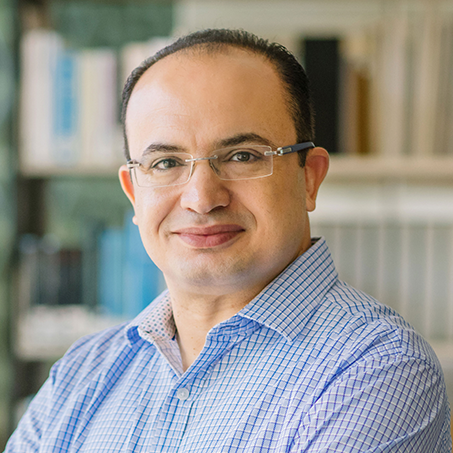 Professor Mahfouz's research interests are focused on developing genome-engineering technologies for basic biology and biotechnology. The application of genome editing technologies requires highly specific and customizable DNA binding modules that can be engineered to bind any user-defined DNA sequence.

Transcriptional activator-like effectors (TALEs) are proteins secreted by Xanthomonas bacteria when they infect plants. TALEs contain a modular DNA binding domain that can be easily engineered to bind any sequence of interest, and have been used, by our group and others, to provide user-selected DNA-binding modules to generate chimeric nucleases and transcriptional regulators in mammalian cells and plants.

TALE DNA binding modules fused with endonucleases (TALENs) can direct nuclease activity to site-specific sequences in the genome with extreme precision, allowing targeted gene knock out, integration and correction. Developing TALE-based technologies will allow researchers to routinely and efficiently edit genomes of virtually any species, by directing mutations in a truly targeted fashion.

Desired Project Deliverables
Training on different molecular biology techniques and comprehending the components and mechanisms of the CRSIPR-Cas systems.