Protein design based on AlphaFold2
Apply
Project Description
AlphaFold2 has made the biggest breakthrough in computational biology and has created the hope to be able to not only solve the forward protein 3D structure prediction problem, but also target a more challenging but more practically useful inverse problem, protein design. Protein design is the core problem in protein engineering and optimization, with a very wide range of applications in enzyme optimization, antibody design, drug development, etc. This project is designed to leverage the power of AlphaFold2 to target the protein design problem through developing AI methods.
Program -
Computer Science
Division -
Computer, Electrical and Mathematical Sciences and Engineering
Faculty Lab Link -
https://cemse.kaust.edu.sa/sfb
Center Affiliation -
Computational Bioscience Research Center
Field of Study -
AI+Bioinformatics
About the
Researcher
Xin Gao
Professor, Computer Science <br/>Interim Director of Computational Bioscience Research Center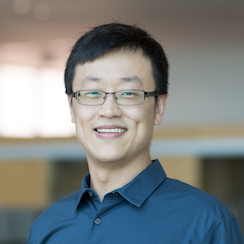 Gao's research lies at the intersection between computer science and biology. His work has two main focuses: 1) developing theory and methodology in the fields of machine learning and algorithms; and 2) solving key open problems in biological and medical fields through building computational models, developing machine-learning techniques, and designing effective and efficient algorithms. In particular, he aims to solve problems that occur along the path from protein amino acid sequences to their three-dimensional structures and functions that ultimately lead to their undesirable expression in complex biological networks.

Desired Project Deliverables
An end-to-end learning pipeline for protein design.
RECOMMENDED STUDENT ACADEMIC & RESEARCH BACKGROUND
AI
Bioinformatics
Machine learning